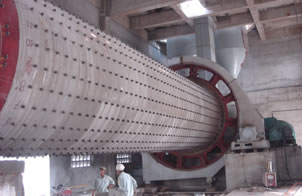 Slag Ball Mill
Description of Slag Ball Mill:
This slag ball mill is a key machine mainly used to process materials from crushing process, and it is widely used in various manufacture industries, like cement, silicate, new building material, refractory material, fertilizer, ferrous metal, nonferrous metal and glass ceramics. Besides, it can also used in dry and wet grinding for all kinds of ores and other grindable materials.


Technical Parameters of Slag Ball Mill:
Number
Specification (m)
Productivity (t/h)
Rotating speed of cylinder
(r/min)
Rotating mode
Power (kw)
Speed reducer
Weight (t)
Model
Speed ratio
1
φ2.2×6.5
18
21.4
Edge
310
ZD70
5
44
2
φ2.4×8
26-28
20.14
Edge
570
ZD80
6.3
90
3
φ2.6×13
11-15
19.7
Edge
1000
JDX800
6.3
137
4
φ2.8×6.5
35
18.65
Edge
630
ZD80
6.3
100
5
φ2.8×10
45-48
18.65
Center
800
MFY80
37.5
160
6
φ3×6.5
37
18.58
Edge
800
JD800
5.6
115
7
φ3×9
40-50
18.58
Edge
1000
JD800B
5.6
132
8
φ3×12
65-75
18
Center
1400
JS110-B-F1
42.22
202
9
φ3.2×13
72-75
17.86
Edge
1400
JDX900
6.3
237
10
φ3.4×7.5
70
16.9
Edge
1000
ZDA-100
6.3
167
11
φ3.5×10
90
16.8
Center
1250
Js110-A
44.1
154
12
φ4.6×7.5+3.5
180
15
Center
2500
---
--
272
13
φ4.6×10.5+3.5
210
---
Center
3550
JQS3550
15.1
360
Note: Parameters in the form is only for reference, and specific parameters should depend on the signed contract technology.
As a professional manufacturer and supplier of slag ball mill in China, Jiangsu Pengfei Group Co., Ltd can also provide you with various other machines, such as mining mill, quartz sand ball mill, cement production line, cement grinding plant, industrial kiln and furnace, grinding equipment, crushing equipment, environmental protection equipment, cooling equipment, drying equipment, compound fertilizer equipment, packing machine, chemical equipment and electrical control system. Most of our products have passed the certification of ISO9000 and CE, and they have been quite popular among customers from as many as
Related products
Mining MillThis mining mill is widely used to grind hard ores or other particulate matter in metallurgy industry, mining field, cement industry, electricity sector, etc. Our mining mill has advantages of stable running...
Quartz Sand Ball MillThis kind of quartz sand ball mill, also known as coal water slurry wet mill and calcium carbonate mill, is developed on the basis of German technology of ball mill, and it is widely used to grind various chemical materials...