Environmental Protection Equipment
Description of Environmental Protection Equipment: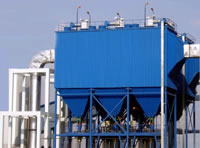 Our environmental protection equipment is typically designed to separate solid granules from air or liquid in metallurgy industry, electricity field, chemical industry, building material sector, etc.
It is mainly comprised of dust hopper, filtration chamber, air cleaning room, holder, lift valve, dust cleaning device.
The workflow of this environmental protection equipment is as follows: Dusty gas enters into the dust hopper through the air duct, and then large-particle dust is left at the bottom of the hopper while the small-particle dust is brought by the air flow to the filtration chamber where granules remain on the outside surface of the filtration bags and the purified air enters into the bags. Finally, purified air is discharged by the exhaust outlet via bag mouths and cleaning room.


Performance Features of Environmental Protection Equipment:
1. High dust collecting efficiency: the dust concentration of purified air is no more than 50mg/Nm3, and its dust collecting efficiency is more than 99.9%.
2. High automation degree: automatic microcomputer control technology has been employed for cleaning dust in chambers, automatically unloading and discharging dust.
3. Advanced technology: developed on the basis of dust collection technology in America and Germany, our environmental protection equipment is capable of reverse blowing in different chambers and pulse injection blowing. The reverse blowing helps to avoid insufficient kinetic energy, and the pulse injection blowing is able to prevent the filtering and dust cleaning from simultaneously proceeding, as a result of which this machine has high adaptability as well as high dust collecting efficiency.
4. High operating efficiency: its maintenance can be made without need to stop the machine, which is quite easy and convenient. If working with the main motor, the environmental protection equipment can have a 100% operating efficiency.
5. Long service life: high-quality pulse valve have been applied to ensure its high-efficiency and stable performance. When matched with quality needle felt filter materials, the filter bags can have an average working life of two years.
6. Strong applicability: it can be used to deal with dusty air with an inlet concentration as high as 1300mg/Nm3. Besides used individually as dust collecting device for air purification, it is also can work together with high-efficient powder classifier and vertical grinder. When fitted with needle felt or other special filter materials, this environmental protection equipment can be used to handle a wide range of dusts. When designed with antistatic filter materials, it is capable of high-concentration coal dust.
7. It is capable of handling large air volume, and has the advantages of good dust removing capacity, high dust collecting efficiency, reliable operation, easy and convenient maintenance, small size, and so on.
Established in 1994, Jiangsu Pengfei Group Co., Ltd is a professional manufacturer of environmental protection equipment in China. Besides environmental protection equipment, we also provide customers worldwide with air tank pulse bag dust filter, kiln inlet bag filter, cement production line, cement grinding plant, industrial kiln and furnace, grinding equipment, crushing equipment, cooling equipment, drying equipment, compound fertilizer equipment, packing machine, chemical equipment and electrical control system. With the certification of ISO9000 and CE, our products have been well received by customers from as many as