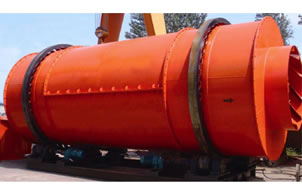 Triple Pass Dryer
Description of Triple Pass Dryer:
Our triple pass dryer has the advantages of compact, simple and rational structure, high heat exchange efficiency, reliable operation, low energy consumption, high heat efficiency, and more.
Features of Triple Pass Dryer:
1. It can do heat preservation by itself, and its heat efficiency can be as high as 80%, while the heat efficiency of single-cylinder dryer is only 35%. Besides, it can save as much as 68% coal and its productivity is 100% higher.
2. Its length is 60% shorter than that of single-cylinder dryer, which makes it easy to arrange. It only takes up about 20m2.
3. Its alloy steel plate is heat and wear resistant, and its abrasive performance is 4 times of that of general steel plate. Besides, it has longer service life and is easy and convenient to maintain.
4. Its outer cylinder has a temperature lower than 60℃, while the temperature of the outer cylinder of single-cylinder dryer can be as high as 150℃. And the discharge temperature is lower than 60℃.
5. The temperature of its discharge hole is low, which helps to prolong the service life of environmental protection equipment, and it can also work together with air tank pulse bag filter.
6. Its air heating furnace can also work in conjunction with fluidized bed furnace, coal spray furnace, and gas furnace.
Technical Parameters of Triple Pass Dryer:
Model
φ2.0×6m
φ2.5×6.5m
φ2.7×7m
φ3×7m
φ3.2×7m
φ3.6×8m
φ4.2×8.5m
Diameter of outer cylinder (m)
2.0
2.5
2.7
3
3.2
3.6
4.2
Length of outer cylinder (m)
6
6.5
7
7
7
8
8.5
Cylinder volume (m3)
18.84
31.89
40.5
49.46
56.26
81.38
118
Rotate speed of cylinder (rpm)
3-10
3-10
3-10
3-10
3-10
3-10
3-10
Residence time of material (min)
12-30
12-30
12-30
12-30
12-30
12-30
12-30
Initial moisture of material (%)
6-25
6-25
6-25
6-25
6-25
6-25
6-25
Final moisture of material (%)
≤1
≤1
≤1
≤1
≤1
≤1
≤1
Max. air inlet temperature (℃)
750-900℃
750-900℃
750-900℃
750-900℃
750-900℃
750-900℃
750-900℃
Productivity (T/H)
Slag
20-25
25-30
30-35
35-10
40-45
50-65
70-85
Coal dust
10-17
17-21
20-25
23-27
25-30
30-45
45-63
Yellow sand
20-27
25-40
27-45
30-45
35-50
55-75
75-99
Motor model
Yr160m-4
Yr132m-4E
Yr160m-4
Yr160m-4
Yr132m-5E
Yr160m-4E
Yr160m-4E
Motor power (kw)
7.5×2
11×2
7.5×4
7.5×4
11×4
15×4
18.5×4
Model of speed reducer
XWD-6
XWD-6
XWD-6
XWD-6
XWD-6
XWD-8
XWD-8
Speed ratio of reducer (I)
17-29
17-29
17-29
17-29
17-29
17-29
17-29
Weight (T)
25
32
35
38
43
57
77
Established in 1994, Jiangsu Pengfei Group Co., Ltd is a professional manufacturer of triple pass dryer in China. Besides triple pass dryer, we also provide customers worldwide with cement production line, cement grinding plant, industrial kiln and furnace, grinding equipment, crushing equipment, environmental protection equipment, cooling equipment, drying equipment, compound fertilizer equipment, packing machine, chemical equipment and electrical control system. With the certification of ISO9000 and CE, our products have been well received by customers from as many as 60 countries and districts such as Germany, Russia, Brazil, Egypt, Iran, Japan, South Korea, Bengal, Pakistan, Turkey, Burma, Vietnam, South Africa, Columbia, Bolivia, etc. If you're interested in our triple pass dryer, please contact us freely.

Related products
Rotary DryerOur rotary dryer is typically designed for reducing or minimizing the liquid moisture content of the materials like slag, clay, limestone, etc. And it is widely used in fields of cement, chemical engineering, metallurgy...
Fluidized Bed FurnaceThis fluidized bed furnace is mainly used to scatter fine particle coal into the hot air furnace, where the coal can be burned. Inside this furnace, the coal can get a burning rate of 98%, and its heat efficiency can be as high as 95%...